Redirect 2% of your income tax to EcoVisio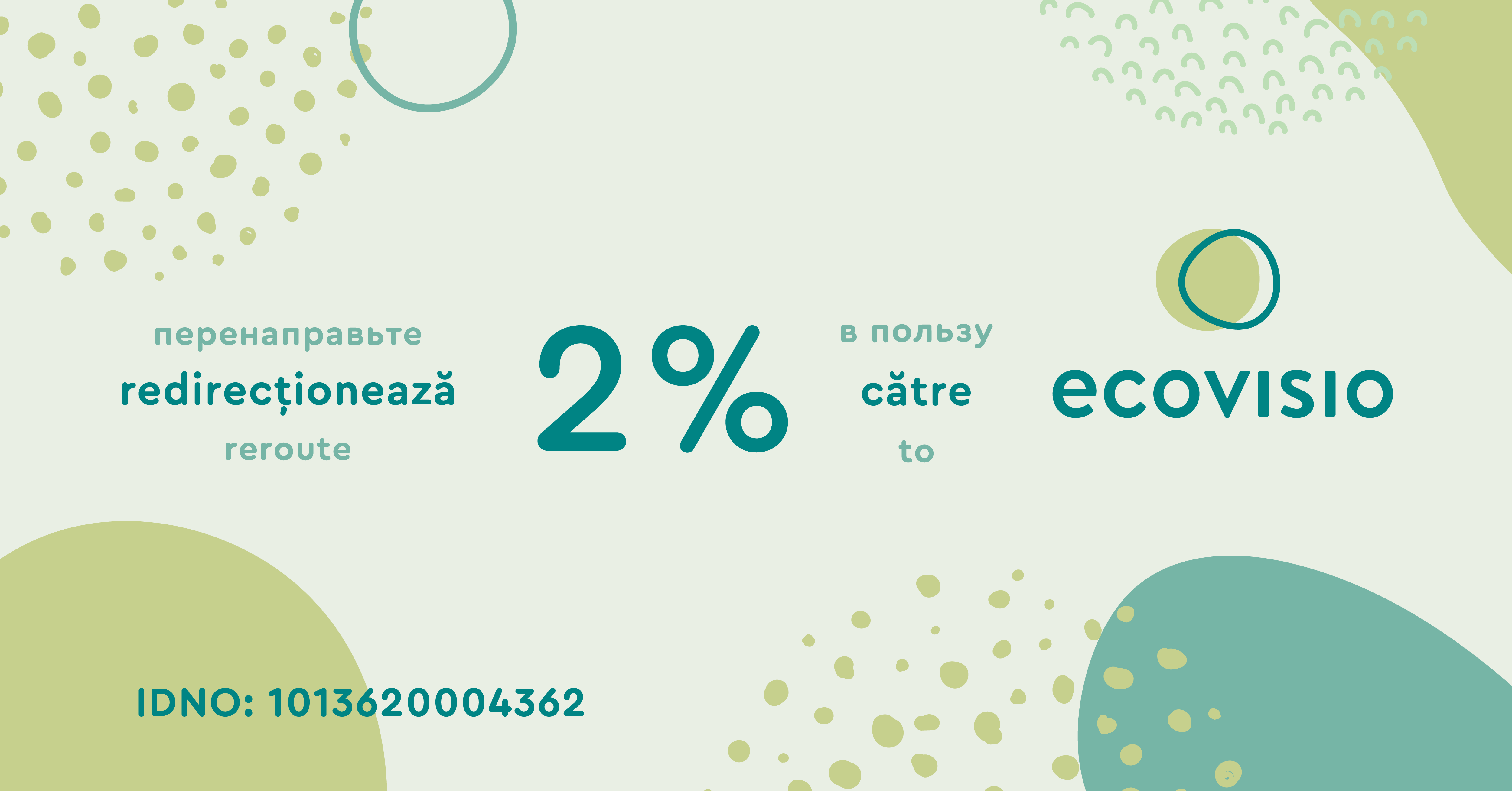 If you are an income tax-payer in Moldova, you might be interested in the 2% law
This law enables you to annually redirect 2% of your income tax in support of any non-governmental / religious entity in Moldova registered for this mechanism (full list here). It is the simplest tool at your disposal to help a cause you care about.
Currently in Moldova, this mechanism is only available for individuals, not companies.
EcoVisio has been enrolled in the 2% donation mechanism since 2017, the first year it was implemented in our country. In the three years since then, we have used this valuable contribution to grow the 'green lungs' of Moldova:
2017: raised 1248,73 MDL, saved it for next year's activities


2018: raised 6903 MDL which together with the 1248,73 MDL from 2017, were used to buy 120 seedlings of fir and spruce trees. These were planted in Valea Satului in December 2018, by the Seed It Forward team together with over 40 volunteers, as part of the campaign 'A fir tree for the New Year - a new tradition'


2019: raised 11.700 MDL, of which 6933 MDL are still available for unplanned activities. The rest was invested in 70 spruce tree seedlings, to continue the campaign 'A fir tree for the New Year - a new tradition'

Half of these spruces joined the evergreen forest started the year before in Valea Satului, where they were planted in December 2019 by Seed It Forward, with the help of around 100 volunteers

All the other seedlings were bought in collaboration with several interested persons (50% of the price covered by them, 50% by EcoVisio), who afterwards planted them in many yards throughout Chișinău and other locations. Overall, about 70 people were involved in planting these seedlings, between December 2019 and January 2020
---
How it works
Every year, individuals can complete the 2% rerouting by submitting their income tax statement.
In 2020, the period allocated for the 2% mechanism has been extended until 29 MAY
It is important to note that these 2% will be deducted from the tax on the previous year's income. In other words, if you complete the procedure this year, you will actually be directing 2% of the tax for what you earned in 2019.
It takes two very simple steps to complete this procedure during its designated period:
1. Go to any office of the State Tax Inspectorate (FISC) with your ID card. Ask to submit Declarația persoanei fizice cu privire la impozitul pe venit ('Personal statement regarding the income tax') or simply ask for the CET18 Form*.
If you have an electronic signature, you can submit this form online 24/7 via www.servicii.fisc.md.
2. Mention that you want to redirect 2% to a public association, presenting EcoVisio's fiscal code (IDNO): 1013620004362


* In 2019, due to a fiscal reform in the autumn of 2018, the 2% mechanism required tax-payers to submit two forms regarding their income tax:
The CET15 Form - for incomes obtained between 1 January - 30 September 2018

The CET18 Form - for incomes obtained between 1 October - 31 December 2018
In 2020, the 2% procedure only requires submission of the CET18 Form

FAQ: Frequently Asked Questions about the 2% procedure
Will this 2% be deducted from my income?
No, as this money is not a sponsorship or a donation in the traditional sense. Basically, it is a small part of the income tax you have already paid to the state, over which you have decision-power.
In case you do not file your income tax statement or do not indicate the tax code of an organization for rerouting, this 2% will simply remain in the state's budget.


How much time will this procedure take?
Contrary to expectations, submitting the income tax form is a quick and very easy operation, as you can see from our short video.
You simply need to present your ID card and the fiscal number of your chosen organization. The FISC employee will then give you the pre-filled CET18 Form with all your information, which you just need to verify before signing.
In case you have an electronic signature, this procedure can be done even more comfortably online using FISC's website.


Since 1 October 2018, all individuals in Moldova have a unique tax of 12% applied to their brutto income. If you are an employee, your brutto income is the salary stipulated in your work contract, before deduction of any taxes or social contributions.
If we were to consider a salary of 7356,1 MDL*, we would have with the following numbers:
7356,1 MDL x 12 (months) = 88,273.2 MDL
12% x 88,273.2 MDL = 10,592.7 MDL
2% x 10,592.7 MDL = 211.85 MDL

* According to the National Bureau of Statistics, this was the average monthly brutto salary in Moldova for the last trimester of 2019 (the most recent data available for consulting). Source: https://bit.ly/2WsjssD


What difference can such a small contribution make to EcoVisio?
We are strong believers in gifts that keep on giving and in great things achieved through small steps. Aside from the financial aspect, these contributions are a precious indicator that people believe in our work and support our mission, which is what keeps us moving forward everyday.


Can you confirm that you got my 2%?
Unfortunately, no. The law states that beneficiaries of the 2% contribution (in this case, EcoVisio) cannot obtain information about the identity of the contributors.
However, you can let us know through our communication channels that you have directed your 2% to EcoVisio. We will be happy to thank you personally!