ClimateLaunchpad is looking for a new generation of eco-entrepreneurs from Moldova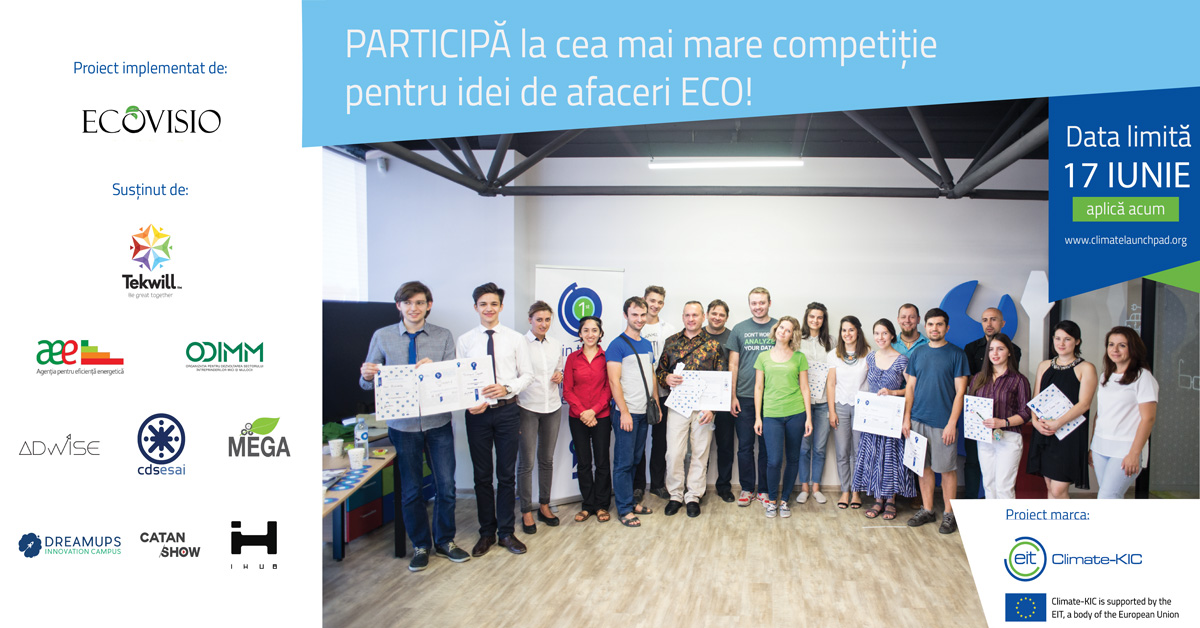 We opened the call for the 2018 edition of ClimateLaunchpad, the cleantech business ideas competition that takes place simultaneously in 43 countries. The call is open to everyone with innovative and sustainable ideas in the field of eco-friendly technologies.
Participants will receive the support they need to develop their ideas into real start-ups with global impact. Ideas can be innovations in the field of renewable energy, sustainable transition in food chain, sustainable urban mobility or any other field of climate change, based on two principles: the use of existing technologies to create more with less, and commercial potential.
EcoVisio is the official partner of the ClimateLaunchpad program and is now organizing the fourth edition in Moldova.
Applications are open to everyone with an idea combining entrepreneurship and ecology. We welcome applications from students, start-ups, entrepreneurs, researchers, public organizations, consultants and engineers who wish to see their idea financed and launched worldwide.
The program consists of four stages:
Boot Camp - 30 June - 1 July

The program begins with a Boot Camp taking place in Riscova village, Criuleni district. The participants will get an intensive training from an international coach, that will help streamline and polish their business idea.

Coaching sessions - July - August

The Boot Camp will be followed by 6 coaching sessions, held by local and international mentors. Each session will focus on a specific topic relevant to creating a business plan in the field of green technologies (market segmentation, pitching techniques, etc.).

National Final - September

At the National Final, the participants will get to present their business plan in front of a professional jury. Three of the most promising ideas will go on to enter, the Global Grand Final, where they will compete against finalists from other 42 countries.

Global Grand Final - 1-2 November

The Global Grand Final will be held in Edinburgh, Scotland. The teams will present their ideas in front of leading investors and entrepreneurs in the field of green technologies throughout Europe. Participants will receive feedback on how to improve their ideas and will have the opportunity to discuss their business plan more thoroughly during networking sessions.

The overall winner of the Grand Final receives €10,000, the runner up gets €5,000 and the idea that comes in third place wins €2,500.

What's more, the top 10 competitors will gain access to the Climate-KIC Accelerator program for start-ups, worth €105,000. For 18 months, this program will enable promising cleantech entrepreneurs to grow their great idea into a rock-solid business.
The call is open until June 17, 2018 - you can register here: http://climatelaunchpad.org/application-form/. Participation is free of charge and the working language throughout the program is English.
For more details on ClimateLaunchpad and last years' editions, check out www.climatelaunchpad.org. You can also connect with us on Facebook: ClimateLaunchpad | Climate-KIC | ClimateLaunchpad Moldova | EcoVisio
Contact person: Olesea Țerna, national coordinator of ClimateLaunchpad Moldova - tel. +373 69 008 296, e-mail: .
Project of:
Implemented by:
Supported by:
---